Rossin Prestige
By Mølle on 05/07/2012.
Bike tags: Road bike | 10_Speed | campagnolo | Eurus | prestige | record | Rossin | sparkle |
Click to view other photos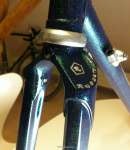 Rossin prestige, sz. 55, built somewhere in the start 90's. illest paintjob i've ever seen.
got this for a steal on ebay a long time ago, and finally got the gruppo i've always dreamt of putting on this bike. rides fast, responsive and is incredibly lightweight for a steel bike.
Note that all tubes, except for the headtube, are hexagon shaped at some point (even the fork!)