barbie
By lilbeaners on 07/23/2007.
Bike tags: Fixed gear | 55cm | blue | bmx style | Canadian | cyclops | fast | girl | gold | hot | lugged | montreal | njs | pink | shimano |
Click to view other photos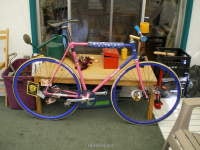 Club Roost GoFast Hardcore DH Rise Bar and Nitto Pro NJS Jaguar Track Stem Gold 90mm

Cyclops fork and shimano 600 headset

cheapo rims laced to a velocity hub

same cheapo rim laced to another velocity hub

ultegra bottom bracket with shimano 600 crankset

Giro vitesse saddle with SR La Prade seatpost

Time ATAC Alium Pedals with random BMX chain

44 random anodized blue front chain ring and Surly 16 tooth cog
Barbie's mostly compiled of old road and mnt bike parts, but she rides like a dream. She's only my work (bike messenger) bike, so i dont put too much money into her.Regardless, all my other bikes are probably jealous cause i ride her the most!!!
RIDE HARD RETARDS!!!