Juggins Pursuit Bike - admired by Boardman & Sturgess
By hmsgenoa on 02/17/2012.
Bike tags: Track bike | Columbus air forks | concealed headset | curved seat tube | fairings | fillet brazed | Juggins Pursuit Bike | shortened campagnolo track dropouts | stem off fork crown | vitus crown |
Click to view other photos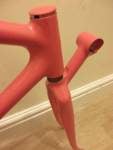 Juggins custom built pursuit, Columbus Air/SL/SLX/Reynolds 531 motorbike tube mix/21 1/4"/1988

TTT Merckx upturned/ Reynold 531 motorbike tubing brazed directly to forkcrown

Columbus air blades, Vitus Crown (threaded brake hole on reverse to enable riding on road)/Stonglight a 9 lower race, concealed top sealed bearing

Wolber Profile 18 26"/ 28 DT Bladed spokes/ Campag Record/Wolber 18mm 26"

Wolber Profile 18/ 28 DT Bladed spokes/ Campag Record/Wolber 18mm

Stronglight polished 107 pista with 52t Super Record Chainring/Campagnolo Super Record Titanium pista

Cinelli Unica leather unpadded/C Record 27.2

C Record Pista/Sedis silver

Can fit sidepull brake wound in on reverse of fork crown (limits steering!)
Bike was built to order to match my position on the drops of a 54 CM duralinox. Bars/stem off crown and concealed headset inspired by the bike of Maic Malchow, DDR, Winner of 1980 World Kilometre tt. Not ridden as fast as deserved, the bike was admired by both Chris Boardman and Colin Sturgess when I was competing at National Track Championships.