Bridgestone RB-T
By thirteen on 07/17/2007.
Bike tags: Road bike | Commuter | 1994 | 56cm | bridgestone | British racing green | San Francisco | touring | Touring |
Click to view other photos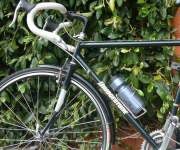 Would have to check. The fork isn't quite as nice as the one on Penelope, my old Malvern Star.

Alex R450 on generic Shimano hub w/ Vittoria Ranndoneur 700x32

SunRims C18 on Deore hub w/ Schwalbe Marathon Slick 700x30

Koobi Enduro AU (weird lorica variant)

generic metal clips + straps

7-speed Ultegra barcons. 30/42/53 cranks, 13-25 or so on the back, RX-100 derailleurs. Very precise shifting.
This bike attracts lots of admirers. Bewitching dark metallic paint. Glamorous but still practical (see before-after photo on top of Diablo). Also sports a Nebraska bicycle license!