1992 Bridgestone RB-T
By modernfuturist on 12/31/2011.
Bike tags: Commuter | 1992 | bridgestone | bridgestone rb-t | campagnolo | gumwall | nitto | rando | randonneur | rb-t | schmidt | sugino |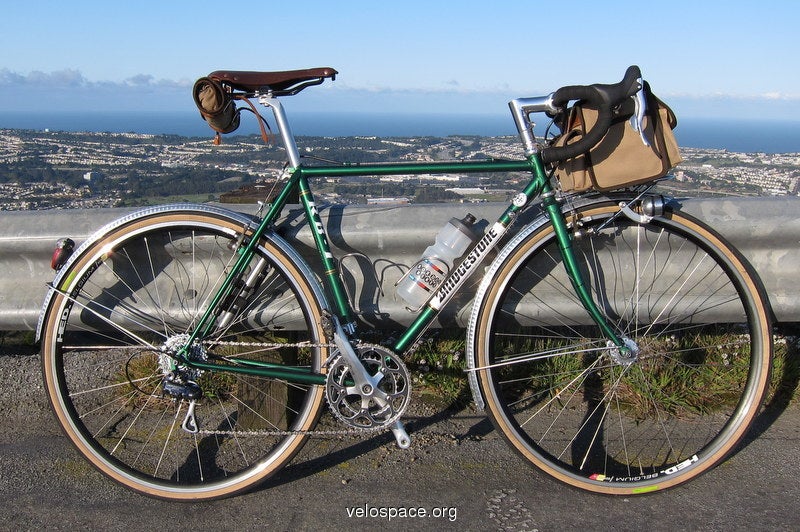 Click to view other photos

53cm Bridgestone RB-T / 1992

42cm Ritchey Classic Curve / 90mm Velo Orange Tall Stack

Stock Ishiwata Fork / Cane Creek 100 Classic

Schmidt Son Deluxe / HED C2 / 700x28 Grand Bois Cerf

White Industries H3 / HED C2 / 700x28 Grand Bois Cerf

Sugino XD2 / Velo Orange BB

Selle An-atomica / Nitto Crystal Fellows 65

Time ATAC Roc XS / Campagnolo Centaur 10s

Campagnolo Centaur Ultrashift / Campagnolo Record Front Derailleur / Campagnolo Centaur Mid-Cage Rear Derailleur

Suntour XC Pro / Yokozuna Salmon Stop Pads

48/34 x 13/29 / Hammered Honjo Fenders / Nitto M-12 Front Rack
This is the most esoteric bike I've ever built up. The components were selected to match the type of riding I do nowadays. This bike is a demonstration of my appreciation for the quality and craftsmanship of Japanese frames and components, and the precision and elegance of Campagnolo shifting. It rides like a dream mainly due to the Jack Brown tires paired with the HED C2 rims. Need to hook up the rear dynamo light and figure out if I want fenders, but for now I'm looking forward to riding the hell out of this thing!
Update 4/1/2012 - Added hammered Honjo fenders, but had to go down to a 700x28 tire size (still measures around 700x30 due to the HED C2 rims), and got my front and rear dynamo lighting hooked up and hidden under the fenders.