FrankenFollis
By eaglerock on 12/08/2011.
Bike tags: Road bike | ambrosio | campagnolo | constructeur | follis | FRANCE | french | gipiemme | Ideale | Lyon | Nervex | philippe | prugnat | Rebour | Reynolds 531 | steel | stronglight | super champion | TA | universal |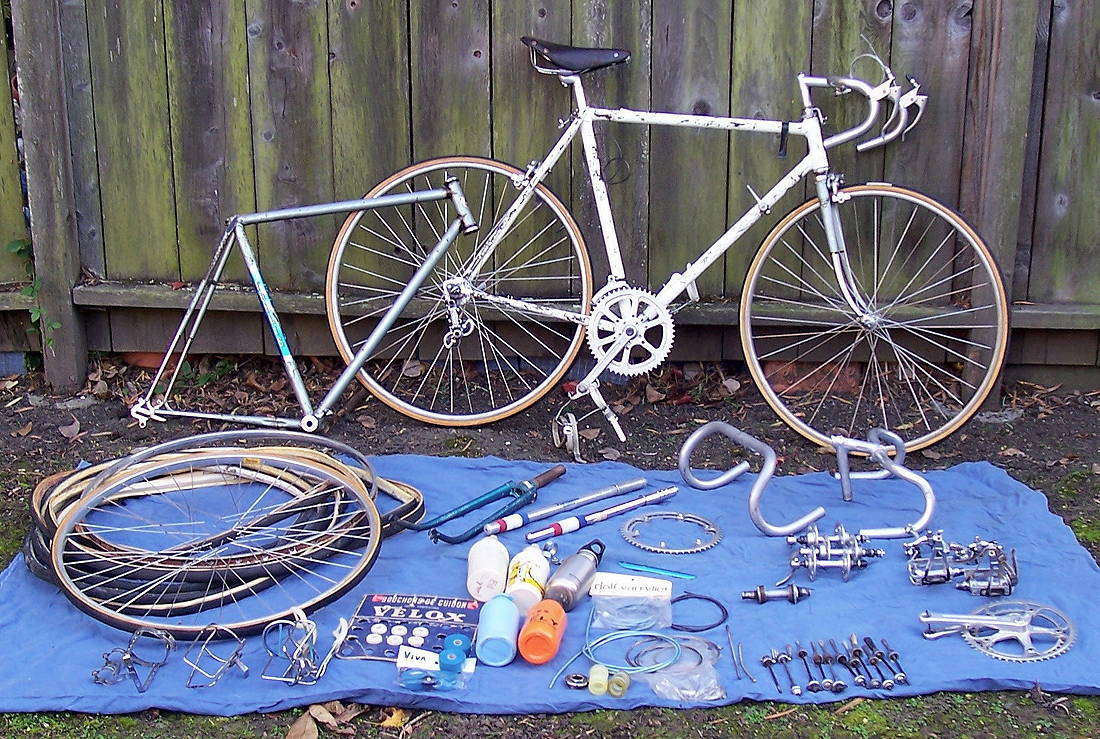 Click to view other photos

1962 Follis Champion de France 55cm; 1972 Follis 472 56cm

Ambrosio Champion stem+bar; no-name French fake-Cinelli (Milremo?)+Follis 1er Prix Constructeurs (Phillipe?)

Follis 472+no-name Nervex/Campy French/Stronglight V4 Competition (on both, for now)

1962 Campagnolo Gran Sport low flange/Super Champion Arc-en-ciel/D'Alessandro Speciale

1953 Campagnolo "medium flange" (Sportsman?)/Super Champion Arc-en-ciel/D'Alessandro Speciale

Specialites T.A. Pro V/Specialites T.A. loose-ball; Sugino Mighty Tour+Campy Super Record chainrings

Ideale #90 Rebour softening treatment/early Gipiemme 26.0mm

Lyotard Berthet no.23 French thread + Christophe Speciale toeclips/Binda Extra laminated leather straps; Campagnolo Gran Sport

Campagnolo Gran Sport/Gran Sport (pre-Record versions)

Universal 61 centerpulls/levers; Campagnolo Gran Sport calipers, thanks to VS 2010 Secret Santa Michael Perz

Caimi (pre-Everest) 14-26 FW/TA 52/47 chainrings/Regina SC chain/ancient Zefal Tornade Solibloc pump, even ancienter chromed Zefal pump
Two Follises dismembered to run as one - it is almost alive...
I got the earlier frame (the white rattlecanned one) with much of the build kit: The early '60s Gran Sport derailleurs and shifters, the Universal 61 centerpulls and levers, Stronglight headset/cottered BB, Philippe stem+French bars and miscellaneous Campagnolo cable routers.
But no fork - hence the problem. The lugwork is nicely done by the builder, a small company in Lyon known for racers in the '50s, and tandems from about 1960 until M. Chollet (M. Follis' son-in-law) closed up shop in 2007. I thought I should find a fork appropriate to the frame - flat lugged crown, Reynolds 531, forged dropouts, nicely thinned lugs. And French threaded, of course.
That has proved to be harder than I imagined, although the SF Bay Area is where French bikes go to die. French threading has been gone for nearly 30 years, and a lot of the forks on the older framesets have been mashed into car doors and wrapped around telephone poles. Most of the ones that have survived are gaspipe anyway, which I should have known - I rode a series of gaspipe French bikes through the '70s (Motobecane Mirage/Super Mirages, mostly).
Even the better-quality French framesets often had clunky-looking forks. One of my potential candidates is a NOS chromed fork at my local bike kitchen that I believe to be a Gitane Tour de France pulled off the production line after chroming, but before paint; the chrome on the socks and crown is polished, but the rest is quite dull. That fork is 531, with Campy dropouts; but the crown hasn't had any filing done at all. The edges are rough and thick like slabs of bacon hacked with a machete.
I set to work on historical research. It turns out that Follis was a noted builder in Lyon, sponsored a professional team for nearly 20 years (the most famous riders were the Lyonnais boys Jean Forestier, who won the 1955 Paris-Roubaix and the 1956 Ronde van Vlaanderen in Follis livery, and Roger Riviere, who won the French national and world pursuit championships in the late '50s before crippling himself with a fall off the side of a cliff in the Cevennes during the 1960 TdF). They then contracted again in the 1960s as they abandoned their motorcycle/moped business to concentrate on bikes. I've met a scattering of fans in North America, Europe and the Middle east, all of whom have great affection for the marque.
I found an advertising pamphlet on French eBay from the 1958 product year, which described a race model with an internally routed brake cable - the only documented description I've seen of such a feature. With that information and the build kit (solid-disk Gran Sport rear derailleur, pushrod Gran Sport front derailleur with cable stop, Gran Sport clamp-on shifters with cable stops, Universal 61 brakes), I have decided that this is a 1962 Champion de France model.
That's my story, and I'm sticking to it.
In search of a better fork, I've been scanning CL for over a year. I saw a fork for a Motobecane Grand Jubilee (531, Nervex Pro, Campagnolo - and Motobecane took a lot more care with thinning their lugs) for $ 20 - but the seller never responded to my mail.
And one day, I found a listing for a Follis of a later era: A 472, an early '70s bike that originally came with a mostly Campy build, but Stronglight BB+headset. It turned out to be a fellow member of the Classic Rendezvous mailing list, so I went down to the South Bay and swooped it up for $ 50 (frame, fork and headset). I figured I'd use the fork for the CdF, and sacrifice the frame. But the frame is actually in nice shape. The paint's a little scuffed, and there's some surface rust, but nothing that couldn't be cleaned up. And I feel bad about breaking up a set, especially when it's nicey-nice (531, Nervex Pro lugs/crown, Campy dropouts, chrome socks).
My current plan is to rebuild the 472 as a 572 by using an all-Campy build kit, replacing the Stronglight BB and headset. In the meantime, I've swapped the fork onto the CdF to test it out with the current (almost) full build kit: TA crankset/BB, Campy shifters/derailleurs, Universal brakeset.
The photos show about 90% of the collective build bits I have for both projects. There are a few items missing: The Regina SC chain, the Caimi and Regina 5-speed freewheels (there's a Dura Ace on the way), another TA water bottle. I'm planning on building a tubular wheelset for the CdF that will cannibalize the oddball rear hub off the mounted wheelset: A Campagnolo "mid-flange", which may come from the Sportsman gruppo (not documented in any Campy catalog I've found). Although the hubs have round holes like the 50s Gran Sport or the 70s Nuovo Tipo (and like a lot of French hubs), the bearing covers and the flanges are flatter and plainer-looking than either. Essentially, a wheelset built on these hubs will be French-looking like a Normandy or an Exceltoo, while keeping with the Italian-parts-on-French-frameset theme. The wheels (once I've paid for the kitchen for the matching front hub) will be built on the Swiss Duralca Caironi rimset that you see here, with the wrapped and soldered spokes.
The fork search continues. The blue fork in the middle is a loaner I got from Velosport, to see if a local framebuilder can make the steerer tube 15-20mm longer. It's definitely not long enough now. I'm planning on getting the CdF built up so I can roll it into framebuilders like Ed Litton and Bernie Mikkelsen, who may still have some French forks lying around. And Avenue Cyclery in SF was a Follis dealer 40 years ago; maybe they still have something, and might be willing to actually look for it if they see where it's going to go.
Once I've found the right fork, this will be separated into independent listings for each bike - as they deserve. Then the refinish experiments for the CdF won't confuse the issues for the 472.
I'm looking for big fatty road tubulars - Clement Paris-Roubaix, maybe, to honor M. Forestier, who's still alive at 80.
EDIT 10/12/2013: I located the correct-ish fork a while back, but it still needs some surgery. The fork is a Follis (531, Nervex Pro crown, team gray/green blades, chrome crown/socks, Simplex-like forged 1-eyelet dropouts). It appears to be from the same early '70s era as the 472, just with cleaner paint and a longer steerer. The steerer's actually too long: 180mm where I need about 155. In fact, the flattened spot on the steerer threading that's typically used on French-threaded steerers to hold the headset lockwasher in place doesn't go far enough down to snug up the headset, although the threading itself goes all the way into the head tube. That's where the surgery comes in; I'm planning on taking it out to Ed Litton in Richmond to file the washer flat down further and then chase the threads. I'll run it with extra washers for awhile until I figure out how far down to cut the steerer.
I built the 472/572 up to ride on Bastille Day - July 14. 2013. It's been my primary bike since then, due to unexpected injuries to other bikes. I'll be breaking out a separate listing for it shortly.