Cilo Sport 600
By cutter2997 on 10/01/2011.
Bike tags: Road bike | 105 | 56cm | 7 speed | 7spd | blue | campagnolo | CILO | cilo sport 600 | lugged | Philadelphia | philly | red | road bike | shimano | shimergo | Tange | white |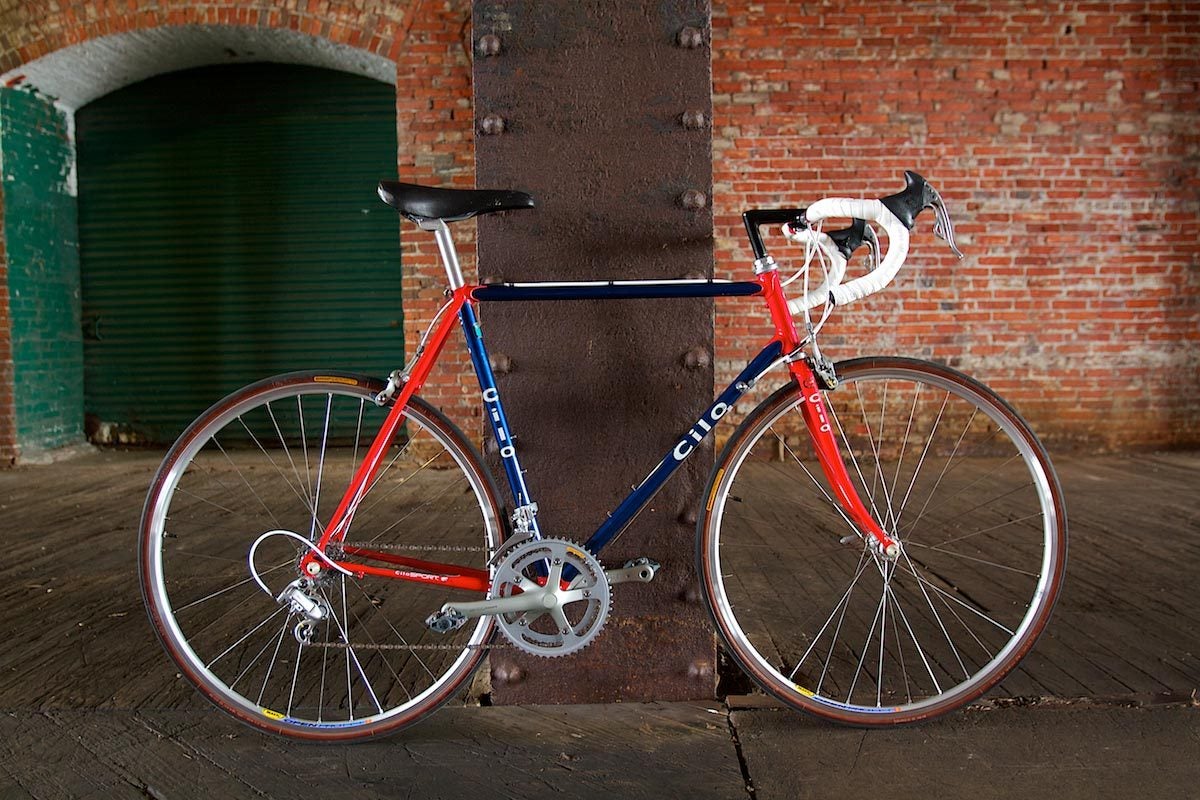 Click to view other photos

Cilo Sport 600/ Tange Championship #1 tubing / 56cm / mid to late '80's?

Sakae Ringyo / Sakae Ringyo

Shimano 105 32H / Mavic Open Pro / Continental SuperSport Ultra

Shimano 105 32H / Mavic Open Pro / Continental SuperSport Ultra

Vetta / Strong / Sugino Binder Bolt

Time Atac XS / SRAM PC-890

Campagnolo Record 8 speed / Campagnolo Athena rear / Shimano 105 front

Shimano 7 speed Cassette 13-23/ Shimano SG 42/53 / Deda Tape / Jagwire Housings / Campagnolo Cables
About 90% of my riding is on the mountain bike, so this was my first attempt at doing a complete road bike build up. I already had components from a '91 Trek 1400, but the Cilo frame I acquired was in such good condition, I decided to modernize some of the parts to make it more rider friendly. I immediately ditched the original Matrix rims with the horrible weld seams in favor of a new set of Open Pro's. Next, I wanted to replace the downtube shifters with STI's. Thanks to all the great info I got from various forums, I decided to go with Campy 8 speed since they use the same 5mm sprocket pitch as my Shimano 7 speed cassette and paired them with a Campy rear derailleur. I also switched to the Time pedals. I usually run platforms on the mountain bikes but go clipless in the winter, so now I can use the same shoes and cleats for both bikes.
I learned a lot putting everything together and surprised at how well it rides and handles. It's my first steel bike and a huge improvement over the old 6061 aluminum Trek. The shifting is spot on and worked flawlessly from the get go. Definitely glad I went with Campy. I'll probably slowly upgrade the rest of the parts to do a full Campy group. Looks like I'll be spending a lot more time on the road now.