DeBernardi Zonal
By Visit Guyana on 09/30/2011.
Bike tags: Track bike | b43 | Debernardi Track bike | Sypnergy Rev x
Click to view other photos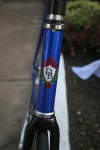 Sunline Riser, Bontrager stem

Sypnergy Rev x, No name super light clincher wheel
This bike is super light and stiff. It gains and holds speed easily..
This frameset with headset, crank set and chain is now up for sale.
All shots taken by me