Cooper Bikes Comes To North America!
By CooperBikesUSA on 09/08/2011.
Bike tags: Commuter | brooks bar tape | Brooks saddle | commuter | fitness | Leisure |
Click to view other photos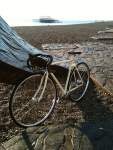 Reynolds 531 tubing/52, 57, 61 cm/2011
The Cooper T200 family of bikes is inspired by the classic lightweight racers of the 1960s. They feature timeless styling using the latest technology and materials. The end result is always simple yet elegant and beautiful. The T200 Reims is no exception combining style and beauty with the convenience of 5 gears.