Romani Corsa SL Columbus late 70s
By Anguirre on 09/01/2011.
Bike tags: Road bike | 54cc | Campagnolo lugs | Romani Corsa SL Columbus
Click to view other photos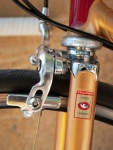 Romani Corsa SL Columbus / 54 /late 70s early 80s

3ttt 42cm Competiozione Eddy Mercx bend handlebar / 3ttt Evol (2000 - 2002) stem 10cm

Romani SL Columbus / Campagnolo Nuovo Record

Campagnolo Chorus oversize 36 / Mavic open pro / Continetal GP 4000 23mm

Campagnolo Chorus oversize 36 / Mavic open sport / Continetal GP 4000 23mm

Campagnolo Centaur Carbon compact 50x34 / Campagnolo Centaur 111mm

San Marco Condor Light / Kaloy Aero 27.2

Lyotard / Campagnolo Vole

Campagnolo mirage 2000 QS / Campagnolo Chorus 1999 - 2000 Front d. / Campagnolo veloce Rear d.

10speed / 12-25 / Campagnolo veloce cassette
Romani founded by the brothers Rodolfo and Gaetano Romani
and entered the cycling business as a small framebuilting company in 1924 based in the town of Sala Baganza in the province of Parma, Italy. Despite its long history and evolution it never became a widely known company for two reasons:
a) They manufactured mainly bike frames and rarely whole bikes.
It was a big frame builder, however you rarely saw many bikes
with the Romani name on them because over 80% of their production was third party frames. Literally any bike shop in the area of Parma/Reggio, Emilia /Modena that had a shop branded line of bikes would have bought from them if they did not build in house. Road bike frames like Piemme, Ghidini and other are in fact Romani. They also built for many exporters. Like Paolo Alto USA., Faglum Racer in Sweden etc. Their quality was quite good and always represented a good value for your money.
This one was at the point of destruction After a lot of personal work from a good friend of mine including sandblasting, rechroming, respacing chain stays plus an excellent design & paint job.
this beauty is final on the street again.
In a few words its a pleasure to ride it, really stiff with a racing spirit very accurate at cornering with a pretty satisfying acceleration (for a steel road bike).

For more photos check the personal blog of the man who gave life back to this frame (not a commercial blog) http://johndoctor.blogspot.com