Apollo Himalaya single speed mountain bike
By Ahn-Teh on 08/23/2011.
Bike tags: Single speed | Mountain bike | Commuter | beater
Click to view other photos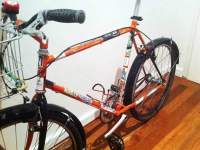 Apollo Himalaya 4130 Crmo, early 80's frame

Norco Handle Bar, stock quill stem

Mavic rim, White industries Hub, Dunlop 26 x 1.5

Ritchey OCR rim, Deore LX hub, Dunlop 26 x 1.5

Avid brakes, Shimano STX levers

46/19, Origin 6 Chainring, Old 19t cog of a 7 speed casette
Picked this frame out of the scrap bin @ a local bike shop, Not a bad old frame, had the rest of the junk lying around to get it rolling, Threw on a wald front rack. It serves me very well as a around town bike.