Kent frame fixie
By Zxcvtypo on 08/05/2011.
Bike tags: Fixed gear | Bianchi | campagnolo | Campagnolo Centaur | Campagnolo Record | Campagnolo Veloce | Christophe | cinelli | cinelli toestrap | fixed gear | origin 8 | sakae sa | Single fixed flip flop hub | SRAM | stay-true | Track Hub | Trek | Turbo |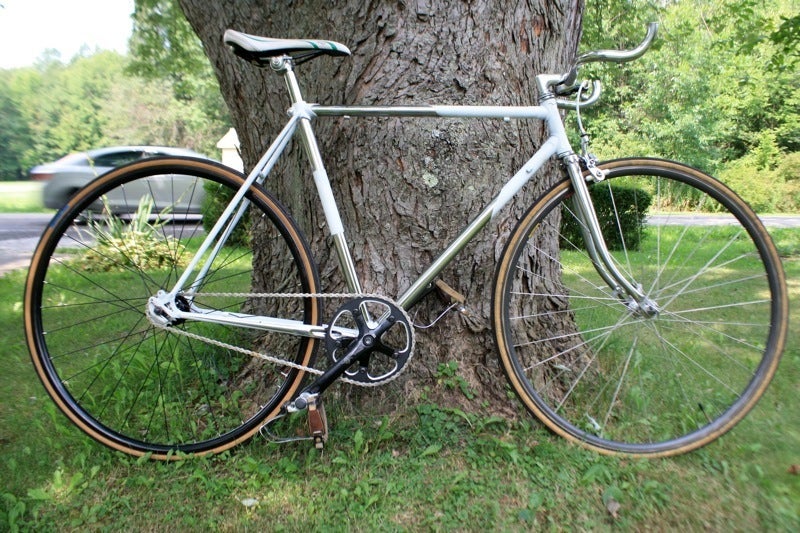 Click to view other photos

Kent frame Chromed and repainted/ 22inch/ 1990

Chromed stainless/ Custom

700c x 25/ Campagnolo Record/ Trek matrix/ Bianchi

700 x 23 / Stay-tru/ stay tru/ Bianchi

Origin 8 45 tooth/ Campagnolo Veloce

Turbo / Chromed stainless

Sakae SA laced with Cinelli leather toe straps and end clips/ SRAM

Campagnolo Centaur Dual pivot/ Giant

18 tooth rear cog and lockring shimano/ 45 front chainring origin 8 for a 18-45 set
This kent frame was just laying around so I literally sanded it completely down to metal by hand, went to a familys body shop and chromed it same with the bars. Originally just polished/buffed with a silk wheel and white rogue, couldn't even tell the difference. The bike itself is my polo bike, so the wheels will come off, and the pedals to be replaced with a less expensive beater set, and usually swap off the front break.
Truthfully, I don't stand behind fixies at all, you'll never see me on one without a polo mallet or doing a test ride after building at the shop.
This bike is one of a kind, like all fixies, hope you enjoy peeking at it as much as I did building it.