Peugeot transformed
By olisos on 08/04/2011.
Bike tags: Road bike | Peugeot transformer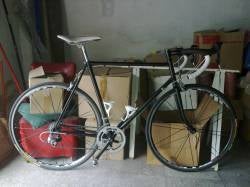 Click to view other photos

giant tcr composite, massi
renovated and painted bike matte black. The original metallic green paint. change all the steering, handlebars, pedals and power. The wheels are gifted, well, the whole bike. excuse the English, is translated by computer.