Soma Buena Vista 50cm
By jchabalk on 07/26/2011.
Bike tags: Commuter | 50cm | 650B | American Cyclery | Brooks | cork | decaleur | ird | mixte | nitto | orgin8 | panaracer | paul | powdercoat | shellac | shimano | soma | sugino | Tektro | thumbies | Tiagra | Velocity | xt | Touring |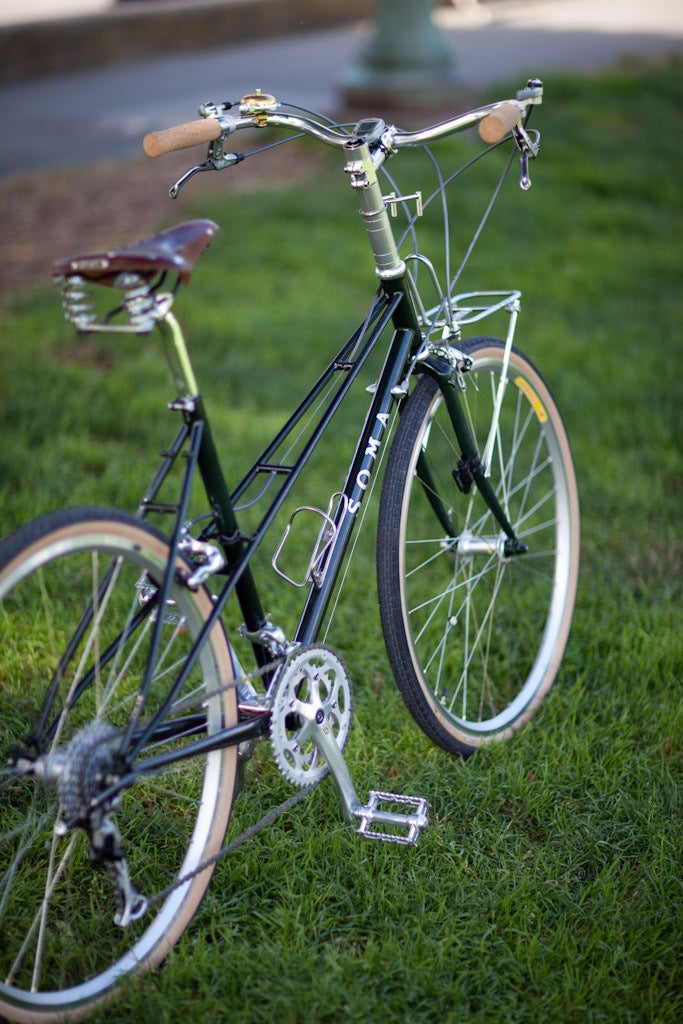 Click to view other photos

Soma Buena Vista 50cm 2011

Soma Oxford Soma Threadless

Soma Buena Vista Stock Fork IRD Techno-Glide

Shimano XT hub with Velocity Dyad Panaracer Col De La Vie 650b

Shimano XT hub Velocity Dyad Panaracer Col De La Vie 650b

Sugino Swiss Cross 48/34 attached to IRD Square Taper 107/68

Brooks B67S on an Orgin8 Classique

Shimano Dura-Ace 9sp Barend Paul Thumbies Shimano XT SGS Shimano Tiagra, Gray Housing

Tektro R556 Long Reach Recessed Mount

48-34 11-34 9sp Single Leg Kickstand with a rubber foot (cut just a little too short)
- Stripped and powder-coated in Emerald Green
o the powder-coat came out a lot darker than anticipated but has a really nice sparkle in the sun
- Built for my wife who is 5'6" to replace an unloved hybrid
- Frame / fork and a lot of the parts are from American Cyclery in San Francisco
- Powder-coating by West Coast Powder Coating in South San Francisco
- 650b build works great on this frame, the rear brake needed special attention for fit with the smaller rim but works fine. good strong braking in the front and rear.