Bianchi Rekord 748
By blend on 07/20/2011.
Bike tags: Road bike | Bianchi | celeste | Finland | Helsinki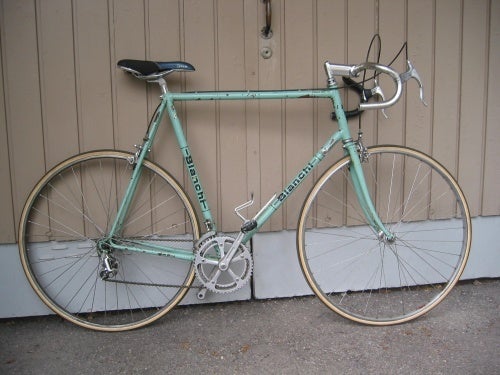 Click to view other photos

Rekord 748 / 59cm / 1977?

gallihub / super champion competition route rim / Schwalbe Milano tubular

gipiemme / wolber super champion aspin rim / Schwalbe Milano tubular

Campagnolo Nuovo Gran Sport
Bought this old racer from a colleague at work in 2010. The idea was to get it repainted, but since it was really hard to match the original celeste color and the bike was just way too big for me (I'm 183/5'10) I ended up selling the bike. Nevertheless I managed to do over 300km with it in couple of months. Lot of fun to ride except that friction shifters do take some time to get used to.