early 531 TI Raleigh Record
By retrobiker on 07/16/2011.
Bike tags: Road bike | 531 | carlton | record | team | TI Raleigh |
Click to view other photos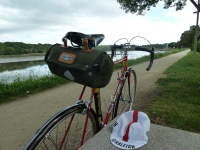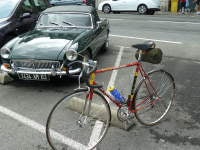 early Raleigh Record 531 in TI team colors,not sure about exact age but judging by the parts (all original and bought as such from second french owner) ,this is a 74-75 Raleigh Record.also noticeable is the yellow headtube instead of the more common black one. Parts included are a Raleigh engraved crankset,weinman brakes with carlton lever hoods, brooks leather,suntour retrofriction power shifters and suntour cyclone derailleurs.tubular rims from A.V.A.on Normandy high flange polished hubs (that look like new) and original Bluemel pump.
21/08/11: bike's been updated for touring:more practical clincher super gentlemen rims,Classic canvas saddle bag,perforated bartape,n.o.s.gold cablehousing,lightweight mudguards. took it on bike holiday to France,where it met another english classic;-)