Centurion LeMans 12
By baudoin on 07/05/2011.
Bike tags: Road bike | Commuter
Click to view other photos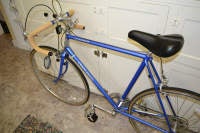 Almost 100% original from '82. I had only put new tape on it in this photo. Converting this bike bit-by-bit over the next several months, soon to be a fixed gear. I'll post updates.