Parker Lewis' EIMEI KEIRIN BIKE from OSAKA
By parkerlewis on 06/25/2007.
Bike tags: Fixed gear
Click to view other photos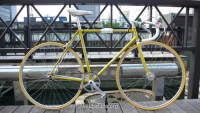 Eimei (tokyo) Keirin NJS (530/540)

Nitto 100 NJS, Nitto NJS, (soyo super long grips)

Hatta Swan Super Deluxe NJS, Eimei NJS fork.

Araya GOLD world champion NJS, Suzue Pro Max High Flange NJS, spokes NJS, Soyo NJS gold star.

Araya GOLD world champion NJS, Dura Ace High Flange NJS, spokes NJS, Soyo NJS gold star.

Dura Ace 167.5 NJS, Sugino 75 NJS

Kashima Five GOLD NJS, Nitto NJS

MKS RX-1 NJS pedals, MKS a-sports NJS straps, Campagnolo NJS clips! HKK NJS Chain.

Sugino 75 46T NJS Chainring, Dura Ace NJS sprockets 16T and 13T, Dura Ace NJS lockring
All my NJS Frames/Parts for sale here.... njsframes.blogspot.com
This is my first fixed bike, and I'm in love. No need for a girlfriend now. Everything is 100% NJS, although I just changed the tyres to some yellow cheap things, because the Soyo NJS's were a bit crazed, and arbonai desu yo. My grandma will be proud of my stamp collection.
It's slightly small for my gaijin ass, so I will be changing to a fluoro pink/purple graphics Panasonic NJS frame which is 560/560.
Only changes I made in the newer photos, are installation of a Uemura Jitensha rear brake kit (no drilling, just plates to squeeze the frame, and some cardboard for that soft touch. Also changed to Sugino Mighty NJS seatpost, and white Kashima 5GOLD NJS chode-master. Also changed to MKS NJS Aluminium clips, because the Campa NJS clips belong on a much nicer bike than mine!
Osaka is the shit for Kei bikes, and I'm going to start a blog soon collecting photos of all the sweet bikes around town, and the guys who ride them. Check back for the link, shortly.