Eddy Merckx Corsa Extra in Tutti Frutti colours, Columbus TSX tubing, team frame Featured Bike!
on 03/7/2012
By jet sanchEz on 06/20/2011.
Bike tags: Fixed gear | columbus | corsa extra | eddy merckx | Merckx | TSX | tutti frutti |
Click to view other photos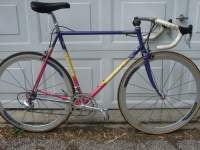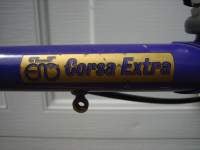 Corsa Extra, 58cm, 1995-ish
This is an Eddy Merckx Corsa Extra in the "tutti frutti" team colour scheme. It is an unusual Corsa Extra in that it is made of TSX tubing; the Century model was typically the only Merckx frame offered in TSX so this would have been a custom order. There is a number hanger as well so it was someone's racing rig back in the '90s.
Not many people like this colour scheme but I love it as it is very unique. The bike came to me in pretty rough shape but a bit of elbow grease and some TLC has made the bike rideable again. It is very quick and the TSX tubing is quite a bit different than my other Merckx, it gives a less supple ride and is in fact quite stiff. I love it.