1985 Diamondback Apex 1x7 City Hybrid
By frantik on 05/30/2011.
Bike tags: Mountain bike | 1985 | 1x7 | 1x? | apex | celeste | city bike | Diamondback | green | hybrid | hybrid conversion | japan | made in japan | seafoam | seafoam green | urban |
Click to view other photos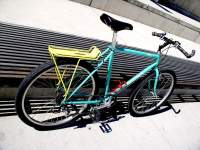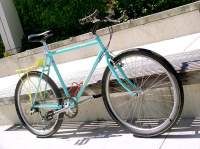 Tange Infinity MTB tapered & double butted Cr-Mo Tubes - 56cm - 1985

Flopped and chopped MTB bars with bar ends, wrapped with bar tape

Tange Infinity MTB Cr-Mo steel fork blades, Tange Falcon headset

Shimano Exage hub, Araya rim, Kenda K838 slick rubber

Shimano Exage free hub, Araya rim, Kenda K838 slick rubber

Shimano B124 cranks on Shimano BB

Vetta saddle on SR Laprade seatpost

Single thumb shifter for Shimano Altus rear derailleur

DiaCompe 128 levers, Shimano cantilever front brake, Tektro Ubrake in rear

46T front ring, 7 speed in rear
This build takes inspiration from road, MTB and fixed gear bikes. One chainring and a simple thumb shifter makes for easy maintenance and a super fun ride!
I got the frameset with yellow rack from my LBS; it had just been sitting in the shop for a while so I asked about it, and the owner sold it to me for a good price.
Parts were taken from two cheap donor bikes and stuff I had on hand. Future plans include skinnier tires, drop handlebars, and upgrading the derailleur (current derailleur ghost shifts like a mo-fo)