1986 Nishiki Tri-A Recycle find
By Skylar on 05/25/2011.
Bike tags: Road bike | Cheap Steel | Handcrafted by Kawamura | nishiki | Nishiki Tri A | road bike | Tange 1 | tri_bike |
Click to view other photos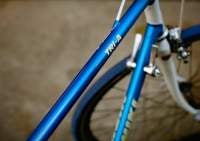 Nishiki by Kawamura Tange 1 tubing / 58cm / 1986

Nishiki Tange 1 / Shimano 600

Velocity Aerohead / Vittoria Zaffro

Velocity Aerohead / Vittoria Zaffro

Sugino Biopace / Shimano 600

Brooks B-17 Heritage / Sugino SP-KC
Recycle Center find for 26 bucks. The second picture is exactly how I found it and took it home. The front wheel was a stock bronze Araya which unfortunately didn't have a matching rear. If I could find some deep section bronze rims with machined braking surfaces I'd get some. I might need to have them custom built.
The bike is my main roller right now and I love it so much I'm planning on finding a nicer wheelset just for it. Just bought a Blue Brooks B-17, planning a new wrapscheme and I'm slowly restoring the paint and will eventually do some detailing on the lugs. I spend all my time on the middle of the bars or the hoods, so I'm considering bullhorns. I'm also gonna go with a shorter stem with much more pullback.
Nishiki translated from Japanese means "brocade from the finest golden material". Pretty much sums up how I feel.
It's a fast streetbike and rides supple. It's just a joy, pure & simple.