1995 Giant CFR1
By Kimmo on 05/24/2011.
Bike tags: Road bike | carbon | lugged | scratchbuild | shimergo
Click to view other photos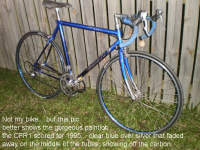 radial 14/15g / 36h Shimano 600 / Velocity AeroHead 24h / 20mm Conti GP

3x 14/15g / 36h Shimano 600 / Alesa semi-aero 36h / 23mm Conti GP

Sakae 170mm / Shimano cartridge BB

Shimano 105 toeclip / NFI

Campy Veloce Ergo / Veloce rear, 105 front

Shimano Exage DP front, SP rear / Campy Veloce Ergo

13-20 7spd HG / Shimano 600 Biopace 42/52
Built up piece by piece from a cheap mid 80s Repco. Grandpa's axe; the Sakae crankarms all that was left of it.
I remember almost the full spec, and it was pinched like 13 years ago. I could torture the scumbag.
24h front built after this pic was taken. Also, stealth-mounted light under the seat and speedo in front of the bar clamp.