Crescent 92319 Porteur
By phimpan on 05/22/2011.
Bike tags: Commuter | 531 | hand made | Nervex | porteur | Reynolds | steel | Swedish | Världsmästarcykeln |
Click to view other photos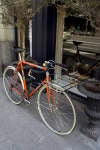 Crescent 92319, Reynolds 531/ 59 c-t / 1970

Nitto Moustasche / Kalloy

Shimano / Panaracer Tourguard

Shimano / Panaracer Tourguard

Campagnolo Valentino / Velo-Orange porteur rack, fenders and brass bell
This is a porteur I built out of an old hand built Swedish racing bike. Everything on the bike, except the bar/stem, tyres, fenders, bell and rack, is original. The model were the second best model, and were hand made in Varberg, Sweden, by the Fåglum Brothers. The tubing is Reynolds 531 and the lugs are from Nervex. The racing bikes at that time apparently came with eyelets and room for a bit bigger tyres, witch made it perfect for a commuter build.