Chicago Bicycle Company 7-Speed Internal Hub Crusier
By Jim Morrison on 06/19/2007.
Bike tags: Commuter | cruiser 7-speed sachs chicago bicycle company burlington
Click to view other photos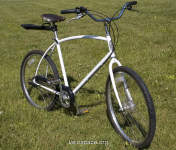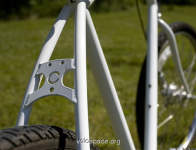 Von Schothorst Wheel/Kenda Tire

Von Schothorst Wheel/Kenda Tire

Sach's 7-Speed Internal Hub
The Chicago Bicycle Company was based in Burlington, VT with production in Chicago. Their aim to have an all American manufactured bicycle. This bike was a police bike in the late 1990's in Burlington. I guess some of the parts have been changed/upgraded.
It was free and I am pumped!