Bianchi for the Office
By deedewu on 06/17/2007.
Bike tags: Fixed gear | Commuter | ants | Bianchi | duct tape | electrical tape | Rust |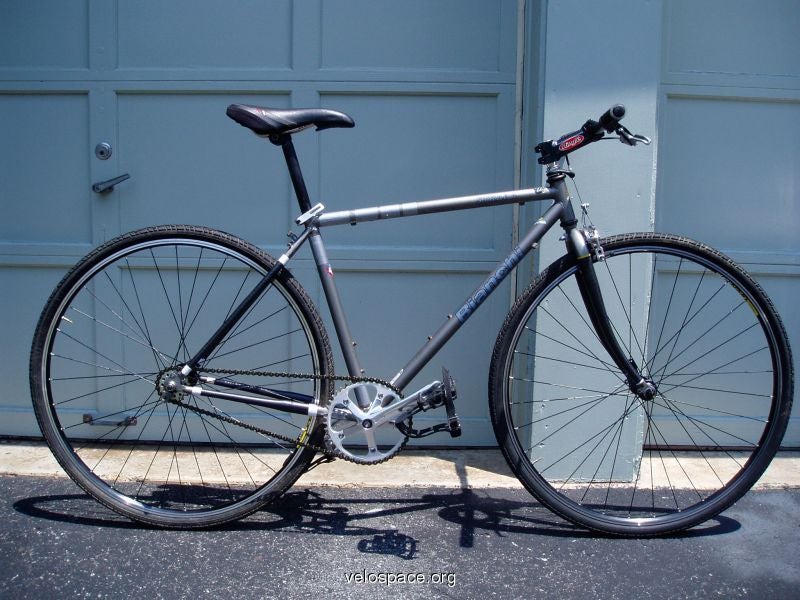 Click to view other photos

Bianchi Strada of very poor craftsmanship

Forte handlebars and Ringle stem to a stem adapter

Mavic Open Sport, some shimano hub

Mavic Open Sport, Surly fixed/free mtb hub

Fixed cup wouldn't budge, even with the help of LBS. Reused spindle and adjustable cup from another bike. Origin8 cranks.

46x18, Surly/Rockwerks cog and no-name lockring.
I was riding my peugeot in my neighborhood about a month ago when I saw this bike next to the curb with a piece of paper taped on it, "FREE BIKE". How could I resist?
Lots of rust. Probably left outside for awhile. Enough so that an ant colony actually made its home inside the tubing. Not a fun experience cleaning it up.
The frame is a Bianchi Strada frame, very poorly made to say the least. If I were Bianchi I would be ashamed to put my name on such a frame. I didn't like the look of the cantilever brakes so I sawed and filed off the brake mounts. In retrospect, I should have left on the ones on the fork, since I had a linear-pull brake just sitting around. I tell myself now it wouldn't have fit anyway. Additionally,
although the fork is drilled for a front brake, the fork is shaped so badly that I had to file down the brake mounting pads to fit.
I despise painting so I sanded down the rusty spots and just put electrical tape (and DUCT TAPE!) over it. I think it looks decent enough from far away, and shoddy enough close up that a potential thief might reconsider. Given the poor quality of the frame, I really put way too much time into this bike.