Giant Commuter
By deedewu on 06/17/2007.
Bike tags: Fixed gear | Commuter | alex | giant | surly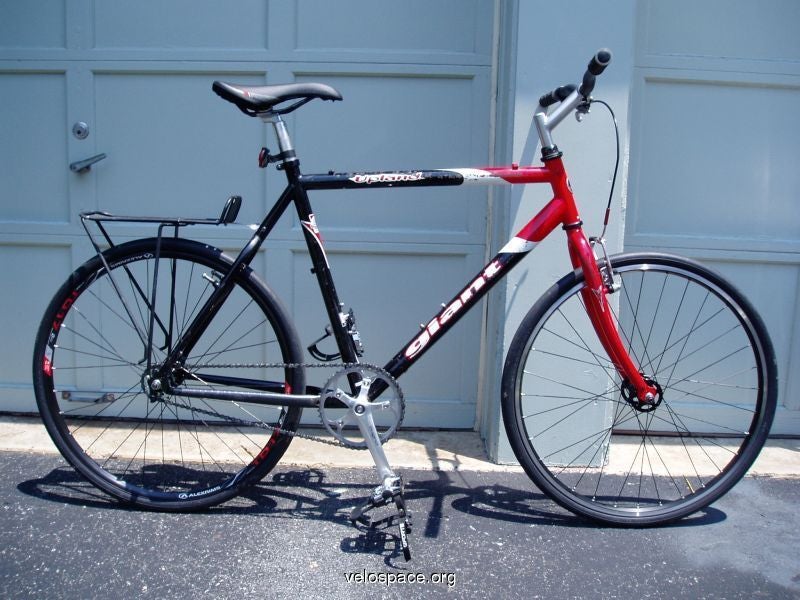 Click to view other photos

Alex Adventurer, Schwinn Panther Hi-flange (very high flange) hub

Alex TD17, Surly mtb fixed/free hub

some shimano cartridge BB, Sugino XD 165mm cranks

stock seatpost, some bontrager saddle I got from LBS for

46x19, Surly/Rockwerks cog with Milwaukee lockring.
This is the bike that got me into biking. I started riding to the metro station just this past winter. An odd time to start riding, considering the cold+wind+rain+snow, but it happened b/c I had missed and angrily chased the bus for the last time.
Giant Upland frame. I got it for free from a college friend who graduated, who got it free from another college friend who graduated. So I am at least the 3rd owner of this bike. It came to me as a geared mtn bike.
Initially, I would have just kept riding the bike with gears, but then two things happened.
First, the chain broke while I was riding one day. Luckily I was within walking distance of a downtown bike shop. I had them replace the chain. Except they didn't install it right. I watched the kid do it, sort of trying to mash the last link into place. After that, I said, screw it, I'll learn to do my own repairs. Can't trust these kids messing around with my bike.
Secondly, soon after this, I started to pay more attention to my bike and noticed the bottom bracket wobbling. In my googling for repair tips, I came across Sheldon Brown's website, where I was introduced to this crazy thing called "fixed gear". A couple months later, I got the Giant "fixed".
I'm running 46x19 which is my magic gear for the vertical dropouts. I did file away a good portion of the dropouts in an attempt to make it work with an 18t cog at first. Built the wheels myself, since I couldn't find fixed gear wheelsets for a mtb bike. These are the first wheels I ever built, and I think they came out pretty decent. I guess we'll see how they hold up to daily use.