Classic 1991 Tommasini Diamante C-record equipt
By momarandme on 04/24/2011.
Bike tags: Road bike | Tommasini Diamante Colorado 1991 C-record equipt. Polish shine Retire Trophy Rebuilt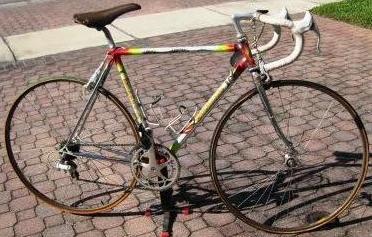 Click to view other photos

tommasini diamante "Colorado" paint scheme, perfect decals/ 52cm /1991

victory strada 700c (28 inch) / Campy internazionali / Continental sprinter sew-up (needs new)

victory strada 700c (28 inch) / Campy internazionali/ Needs replacement

C-record / C-record (original)

Time Sport clip on / Original

8 gear rear cassette (large 23 cogs), Once cleaned up taking off spot rust and chrome pitting, tune up should shine
Tommasini Diamante "Colorado" C-record equipt. This bike is owned by my wife. She does not want it because she does not like riding position on road bicycle. Its grimey, Needs new tires. Used little and stored inside for 20 years . It has:
C-record 8 gear rear cassette, 2 gears front
Campy derailleurs perfect
Campy crank set
C internazionali hub sets
Center pull Campy brakes, hand brake calipers Cinelli 10-11 cm stem
Campy handle bars 41 cm
Campy Victory Strada wheels (take 28" tires)
Regal Giradi leather saddle with some abrasion
Frame 52 cm top and seat tube, in almost perfect Colorado Rockies paint scheme and perfect decals. Columbus MS steel with chrome "T" lugs. Chromed front fork and rear of frame.
Surface rust on "T" lugs and Chrome mild pitting from humidity. Decals are perfect. Paint has no scratches or chips. For me it is still a sweet ride, but maybe I should retire it vs clean, polish, and tune-up. What would you do?