1988 De Rosa Professional SLX
By abstrait on 04/23/2011.
Bike tags: Road bike | 61cm | columbus slx | de rosa | Dura-Ace 7402 | Dura-Ace 7410 | Mavic 305 |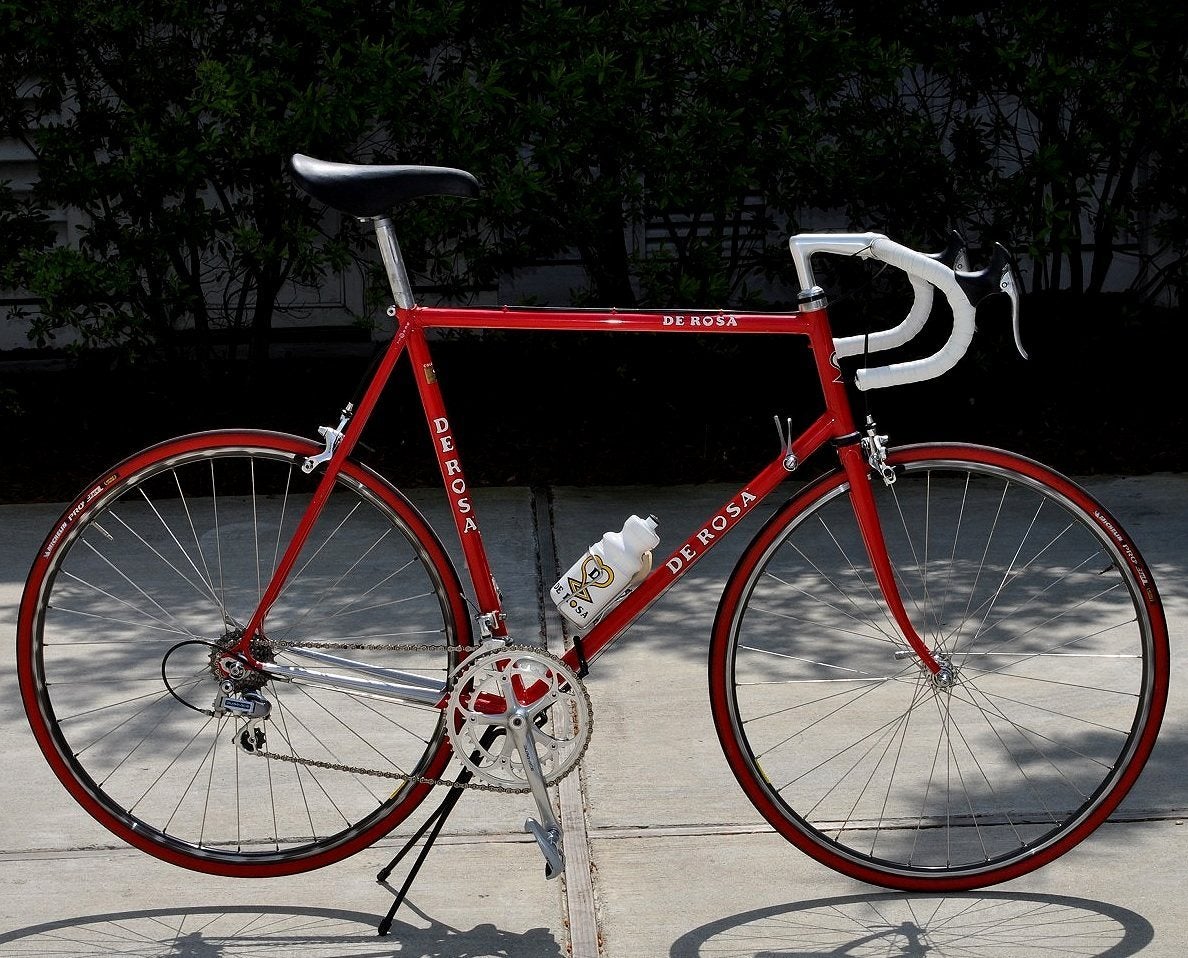 Click to view other photos
Stranger things have happened, but two De Rosa Professionals in Rosso Team had me questioning
the Space-Time Continuum. While I have been actively looking for an early to mid 70s 60-61cm Team Blue
sample from the heyday of Ugo De Rosa's time, this latest '88 De Rosa Pro SLX turned up at my veritable
doorstep, just too good to pass up (Thank you JP!). I had presumably bought my very last red bike
with the Colnago Super in Saronni colors. This beast makes a few firsts for me. This is my first
Columbus SLX frame, this after all Columbus SL and Reynolds 531. It's also my first time rolling on
anything other than Campagnolo Nuovo & Super Record. And it's my very first index shifting bike of any
kind, having avoided it for too many years to admit. I was anti-index on principle.
Up until a short time ago, the idea of running Shimano on something as verifiably Italian as a De Rosa,
would have left me shaking my head, even if Dura-Ace. It was taboo. But truth be told, before this
time in the whole Campagnolo vs Shimano war, Campy still had the edge. But by the time more runs of
Dura-Ace 7400 were coming into prime, I think Campag C-Record, as beguiling as it was, dropped to
second place performance-wise. One lap of this island on this Dura-Ace Group left me incredulous.
Simply put, this drivetrain walked all over my very best sample of Campagnolo Super Record and
performed far better then the C-Record samples I have been privy to. No doubt about it as it was
smoother and faster shifting, and worked without a single hiccup, unlike some of Campag's forays
into the land of index shifting. And moving the DT shifters to friction brought equally fast and smooth
shifts. It was eye opening, indeed. Not only that, but the Dura-Ace 7402 RD was not bad to look at,
either. Ditto for the Dura-Ace 7410 crankset, arguably the best looking of ALL the Dura-Ace
cranksets. For the first time ever, I acually preferred the performance AND aesthetics of this Dura-Ace
to the C-Record although there is still a fondness for the pure beauty of the C-Record Crankset. Still,
there is no arguing the performance of this beast. Campagnolo was in second place. Ok, Italy is still
alive on this beast as there IS a later Campag Record FD, SR Seat Post, not to mention the Cinelli bars,
stem, and Italian San Marco Concor. And some Kudos to France for my favorite clinchers and the rather
rare Mavic 305 Headset, built like the proverbial Brick...
This 61cm '88 SLX sample differs from my 59cm '83 Columbus SL De Rosa Pro with a flat fork
crown vs the chrome sloping "aero" crown. I love the chrome on my 83 but marginally prefer the
aesthetics of the flat crown on the 88. The later SLX frame also has such embellishments as
chromed chainstays, chromed dropouts, and even a little heart in the rear brake bridge. Around
this time, the De Rosa shop was moving from the small place below their home, into a full-fledged
factory. True, De Rosa was now able to crank out some frames, perhaps leaving a bit of that
cottage feel of the earlier era, even post investment cast lugs. STILL, the workmanship of
this sample is VERY clean.
The ride? It's pure De Rosa 100%. While the early 70s samples, complete with heart cutouts and pressed
lugs filed with care, were surely the most collectable, the 80s De Rosa seem to handle/perform at
another level. This SLX frame is just such a beast. Succinctly put, it's my new favorite on the road
perhaps usurping the Ciöcc as my go-to bike when hauling ass with the carbon partrol looking for blood.
The Ciöcc still corners the best of all my bikes, even though the largest, although this De Rosa SLX is
very close. Interestingly, it's wheelbase is a good 3/4th an inch LONGER then my 83 Ciöcc, which was a
surprise. I might slap this entire drivetrain on the Ciöcc to compare. But right now, this damn thing
is frustrating my riding partner with his Specialized Tarmac 2 Pro. I told him he needs to
stop riding robot-turned plastic.
This bike is in amazing condition, draws plenty of praise, and is just GREAT on the road at speed.
With the Dura-Ace, it's now my smoothest performing bike. It's not going anywhere. And it
reaffirms my love for this era of Italian frame, even though now partnered with the best of Japan.
- kh
i-vol.com/bikes
_______________________________________________________________________
Frame & Tubing
'88 De Rosa Professional SLX ~ 61cm C-C ST ~ 59.5 TT ~ Columbus SLX Tubing ~ De Rosa/Campag Dropouts
Fork and Headset
De Rosa w/Flat Crown & De Rosa Engraving (Columbus SLX) ~ Mavic 305 Race Headset
Handlebars and Stem
Cinelli Campione del Mondo 66-44 ~ Cinelli XA 120mm ~ Ambrosio Bike Ribbon
Brakes
Shimano Dura-Ace BR-7402 with 7402 Levers ~ Dura-Ace Anatomical Aero Hoods
Front Derailleur
Campagnolo Record
Rear Derailleur
Shimano Dura-Ace 7402
Shifters
Shimano Dura-Ace SIS 8spd
Gearing/Freewheel
Shimano Dura-Ace Hyperglide 8spd (12,13,14,15,17,19,22,26)
Crankset and Bottom bracket
175 Shimano Dura-Ace 7410 53/39 & Dura-Ace BB
Pedals and Chain
Shimano Dura-Ace PD-7401 / Dura-Ace HG 8spd
Saddle and Seat Post
Selle San Marco Concor Supercorsa / Campagnolo Super Record Post - 27.2
Front wheel
Mavic Reflex S.U.P. CD (32) ~ Dura-Ace 7402 Hub ~ Michelin Pro 2 Race
Rear wheel
Mavic Open 4 CD (32) ~ Dura-Ace 7402 ~ Michelin Pro 2 Race
Water Cage
TA
Weight
21.7 lbs