Cinelli Mash
By jensbergelin on 04/19/2011.
Bike tags: Fixed gear | 55 | cinelli | cinelli mash | Cog | fix | fixed | fixedgear | fixie | H+son | L | large | mash | phil wood | Pista | sugino | Track |
Click to view other photos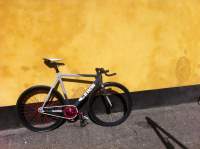 Cinelli Mash L (55 cm) 2009, build 2011

Bontrager pista drop bar and Cinelli Pista stem

Cinelli Mash Carbon/alu fork and Cinelli X Columbus headset

H+son (SL42) rim, Phil wood hub, DT swiss black spokes, Halo twinrail tire 23C

H+son (SL42) rim, Phil wood hub, BLB 17T red cog, BLB Red spokes, Phil wood lockring and GP4000s rear tire 23C

Sugino 75 Messenger with ZEN blade crankset, and a Sugino std. crankbox

Fizik Antares saddle and Thomson 31.6 setback seatpost

BLB track pedals, KNC white Chain

17T - 48T, BLB red cog, Sugino Zen blade.
Hi guys, I'm Jens Bergelin from Copenhagen, Denmark.
I just Finished up my project, and I'm really happy aboud the outcome;)
What do you think? And please don't wright about the frame choise, A have already chosen this frame because I love it, and it feels like it's made for me!! ;)