My custom Jamis Sonik Featured Bike!
on 04/26/2011
By Akira Kuramoto on 04/01/2011.
Bike tags: Fixed gear
Click to view other photos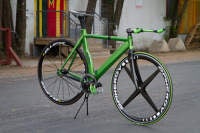 FSA Vision base bar / FSA Vision Sizemore 100mm +- 10*

HP design Aero carbon fork and steer tube/ Cane Creek

Spinergy Rev X / vittoria rubino

Mavic Ellipse 2011 / mavic / Ultra Gatorskin

FSA carbon Track / Megapipe

Fizik Arione K:1 / Jamis Carbon aero post

MKS gr-9 black / SRAM pc-1
Cant believe shes finally done,The leader is gone and this build is right at 15 lbs.
Cuts through the wind and ridiculously responsive.
http://prollyisnotprobably.com/2011/03/beautiful_bicycle_johns_jamis.php