Chrome 1968 Paramount
By Lupin The Third on 05/01/2006.
Bike tags: Track bike | campagnolo | chrome | cinelli | Nervex | paramount | San Francisco | Schwinn Paramount | track bike |
Click to view other photos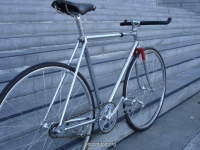 Chrome 1978-P14 Nervex lugs

Invesment casting with Campy drop / Campy SR

Philwood 48 X 17 SAKE cut bull horn
I have always wanted to restore a vintage bike that has history and personality. This frame was found from pure luck in e-bay. The title of the listing has a typo that says "Track Bike Schwinn Parmount" frame and fork only. The pictures on the listing were scanned from photo, which did not say very much on the detail of the frame.
When it arrived from Ohio to San Francisco. I could not believe how clean it is. It look like the previous owner took a very good care of it. All the serial numbers of the frame and Nervex are still intact and clearly stamped. Surface oxidation and rust were wiped off easily with Nervdull. Also the seller was kind enough to threw in a pair of campy SR sewup wheelsets, campy headset, sake bull horn handlebar, durace track pedals, durace track bb.
This bike turn out to be a very fantastic and comfortable to ride. It is my daily going to work ride that make every morning feel like Friday!