Tornado TT mid 90' Featured Bike!
on 09/26/2011
By Zdrenka on 03/11/2011.
Bike tags: Fixed gear | 90' | campagnolo | nineties | shamal | time trial | Tornado |
Click to view other photos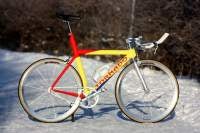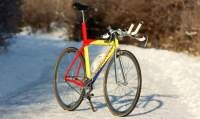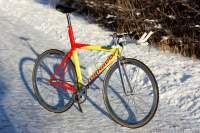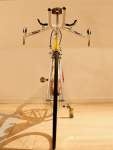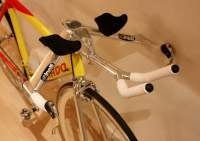 On of a kind Tornado TT steel frame. Columbus Megatube.

Cinello Angel combined TT bar

Shamal 16 HPW / DedaTRE Open tubular

Shamal 16 HPW / DedaTRE Open tubular

Campy Athena (to be upgraded)

Selle Italia Fausto Coppi LE / Campy Record Titanium
Quite special this one. Its a one of a kind build by a more or less famous framebuilder here in Denmark.
The frame is build from Columbus Megatube (Yes its steel and about 2.4 kg for the frame alone) which I've never heard of before. I found a note on columbus' site.
"In 1994, to celebrate 110 years of Bianchi, Columbus strengthened the friendship that born between the fathers of the two companies, making MEGATUBE® solely for the Treviglio company. Megatube has become a must and is now one of the strong points of the Milanese company, with more than 25 different shapes."
I haven't found any Bianchi builds in steel with this tubeset. Seems like it came so late the need for it had gone.
SS at the moment with homemade spacers here and there so its rideble even though I must admit, its a wee bit small.