Bridgestone Anchor PHM9
By AndrewPascau on 02/24/2011.
Bike tags: Track bike | anchor | bridgestone | carbon | nitto | phm9 | track bike |
Click to view other photos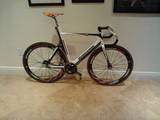 Bridgestone Anchor Phm9/Large/2011

Nitto b123aa heat treated/ ITM

Bridgestone Carbon/Chris King

American Classic Carbon 58

American Classic Carbon 58

Sugino Grand Mighty/ Hatta

Kashimax 5GPE/ Nitto 30mm
Raced only here in FL on the track. Only one in the world painted dark charcoal. Im selling a red one same size pm me if interested.