Austro Daimler Dog Carrier Featured Bike!
on 03/1/2011
By Ocell on 02/17/2011.
Bike tags: Commuter | chrome | dog
Click to view other photos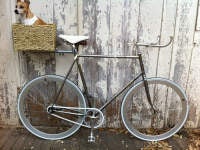 Honestly not my bike, a friend's, but wanted to share. I'll fill out component information as I get it. It's a two-speed hub with coaster brake, so I wasn't sure where to categorize it.