Custom Cycles DeBlois Track
By Aldous Huxtable on 02/15/2011.
Bike tags: Track bike | Custom | Cycles DeBlois | pursuit | steel | Track | true temper | Yamaguchi |
Click to view other photos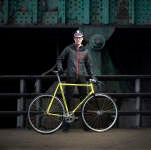 Cycles DeBlois 57 x 56 custom track frame [True Temper tubing]

Ritchy Pro bullhorns cut short / Control Tech stem

Miche / DT RR415 / Schwalbe Durano S

Miche / DT RR415 / Soma Everwear / 17t Euro Asia cog

IRD Defiant Crankset / Shimano BB

Selle Italia Flite / no name

MKS RX-1 with Cadence Straps / Wipperman IG8
This is Cycles DeBlois frame number 1. Completed while studying under Koichi Yamaguchi, October 2010. Smart Car yellow custom paint job by Duane Waller of Chester Cycles. Front tire clearance is insane, even by my standards, steering is very responsive and it handles like a dream. Looking forward to racing this soon and really getting a feel for it.