Bianchi Track Bike: RIP
By AaronR on 04/26/2006.
Bike tags: Fixed gear | cracked | dead | fixed gear | sadface.... | track bike |
Click to view other photos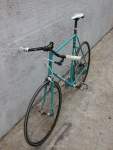 Nitto Stem, Soma Major Taylor Bar

Original Fork, Chris King 2nut

Campagnolo Pista Cranks, Phil Wood BB

Thomson Elite, Brooks B17 Narrow

Vintage Specialized Track, Sram
This was my work bike in Denver. Seen here in one of its many phases, this, the most obnoxious, least classy setup. The barwrap was a prize won from our RTD Strikebreaker race....It had been passed between several messengers and I killed her; downtube cracked at the headlug. We had been through hell together and I will always love her...