Rob Stowe Criterium Bike
By Roni Solomon DDS on 02/03/2011.
Bike tags: Road bike | Criterium | mavic | Phase 3 Cycles | restomod | rob stowe | rochester | SRAM | Stowe | stronglight |
Click to view other photos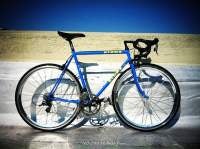 Phase 3 Cycles, Rob Stowe, 53x54

3TTT Ergo, 110mm ITM Ribble Pantographed

San Marco Regal, Ritchey Pro

Carbon SRAM Rival, SRAM Rival
I bought this as a bare frame from the original owner about nine months ago. I was raised in Rochester, developed a strong interest in cycling and frame building, so finding a Stowe frame was an especially big deal for me. I was going to build it up with some vintage Dura Ace or Superbe Pro gear, but after I got a slick deal on a new 2010 SRAM Rival group set, my plans changed. The Stronglight A9 looks awesome with the fillet brazes. Total weight as shown, 20.3 lbs. The total cost for this build was under a grand, which isn't bad when you consider how much a new road bike goes for these days.
What are my thoughts on it? This bike represents all the reasons why I got into cycling and frame building in the first place.