B.E.R.D
By another mans gold on 06/05/2007.
Bike tags: Fixed gear | Single speed | duffy street | salvaged/found/free frame | Slaughter Dogs... B.ug E.yed R.at D.og
Click to view other photos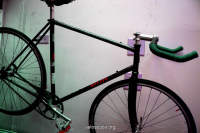 Ritchey Pro TT bars with Stella Azurra foam tape and no name forged aluminum stem

nameless carbon fork and Cane Creek S2

Alex R450 rim and cheap Shimano hub

MKS GR 19 Platform pedals and Z chain
Petunia went to a new home though I kept the wheels. Petunia will be getting a set of red deep-Vs with coaster brakes... this is Berd, say hey. Thanks to Eric and James for the frame- found in a ditch riddled with rust. Shes happy now.