1980 SR Semi Pro
By rodentfield on 01/23/2011.
Bike tags: Road bike | 27 | 600 | arabesque | avenir | Campus Sport | cr-mo | CrMo | cromo | cromoly | Maxima Sport | Semi Pro | shimano | SR | steel | Tange |
Click to view other photos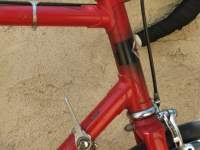 Straight Gauge Cr-Mo / 23" / 1980 or 81

SR Custom Road Champion / 120 mm Cr-Mo steel replacement

36 plain steel spokes / Shimano hub / Araya 27 x 1 1/4 rim / CST Super HP

36 plain steel spokes / Shimano cassette alloy freehub, 6 speeds / Araya 27 x 1 1/4 rim / Continental

Shimano 600 EX Arabesque, 52/42, 165 mm

Kashimax Super / Avenir 26.6 (replacement)

Shimano 600 EX Arabesque / Replacement aero brake levers; originally 600 ex
Here is my SR road bike I bought from a friend and restored. Repacked hubs, headset, bottom bracket, adjusted cables, brakes, new handlebar tape, trued wheels, replaced chain, overhauled rear derailleur.
From components, internet research, and other SR Semi Pros I've seen, I'm fairly certain this is the Semi Pro model, a sport/touring bike that was of decent quality at a very good value back in its day. The frame decal shown says Cr-Mo: Chrome Molybdenum Steel Tubing. It's straight gauge. There was no sticker on this bike, but a seller of an apparently identical SR Semi-Pro sent me the picture here of the tubing sticker on his, which I have every reason to believe applies to mine also.
It's an interesting bike. There seem to be a lot of SR's in CA. Interestingly, from research on bikeforums.net, this SR doesn't seem to have anything to do with the component manufacturer Sakae Ringyo that also used the SR acronym. This one's serial number is MOK65385.
My friend didn't do anything to it, but the previous owner he'd bought it from had put it through the wringer. It's been repainted so that I can't see anything, even though the original paint job I've seen on other people's Semi Pros looked much nicer. There's no tubing sticker visible. This guy had also covered it with silly 'Campagnolo' and 'Scary Fast' decals instead, which I removed. The handlebars are badly scratched near the stem, probably from the stem swap. They're perfectly solid, but there are some little dents.
There are some upgrades, though. The steel stem is actually quite light, and I like the longer reach. The Avenir polished seatpost is light and pretty-looking.
It wasn't in the best shape when I got it. The rear rim had a slight dent, so I had to remove some of the spokes, bend it back into shape ( had to basically jump on it) and then true it again. The rear derailleur hanger was bent, probably from storage with the rear wheel off. I got it straightened at a bike shop, which they did very easily with a special tool. I also had to buy a rear quick release, since the original had apparently broken.
It weighs 24.4 lb with heavy steel chainrings (not original, nor shown in picture), surprisingly light for a straight gauge frame.
It's a solid ride, nothing to really complain about. The Shimano 600 EX group isn't that great, although it's very light and pretty to look at. Shifting is laborious and the brakes are weak. It was my main ride for several months before I bought my Trek 1500.