Simonetti Track Bike
By danzap209 on 01/11/2011.
Bike tags: Fixed gear | fixed | Simonetti | suntour | Track
Click to view other photos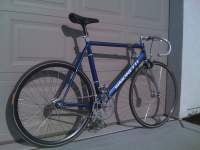 Suntour/Matrix/ Conti Tubular

Suntour/ Mavic/ Conti Tubular
Fun. fun, fun :)
The only changes will be adding a black anodized Nitto bars and stem.
Maybe changing fork. I'd like one with less rake.