Airborne Liberator
By Elvis on 12/25/2010.
Bike tags: Mountain bike | Commuter | 2007 Manitou R-7 Comp | Airborne | Airborne Liberator | do it yourself | mountainbike | Mountainbiking | Mountainbiking New Jersey | MTB | new jersey | Paul's Thumbies | thumb shifter |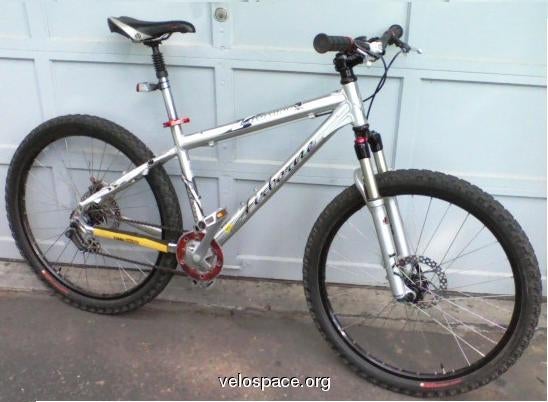 Click to view other photos

Year=? Frame= Airborne Liberator, aluminum

mtb riser bar, oversize - aftermarket stem

junk headset (pieced with what was in the frame and scrounged from shop bin) / Manitou r-7 air shock

disc / Kenda Koyote 1.95x26

disc / Kenda Koyote1.95x26

old no name (170mm length, 110 bolt pattern) cranks; old timey bb with separete spindle and bearign cups (from my parts bin)

road seat; Thompson seatpost(27.2 mm width, loooong length, Salsa flip lock clamp red 32mm

old chain, reused platforms

Retrofit Shimano bar end shifter turned thumb shifter (a la Paul Thumbies) (previously trigger Deore shifter that matched the derailier), Shimano Deore 8 spd rear derailier

mechanical disc brakes and levers

34 tooth front chainring, homemade chain guard, and 8 speeds in back

front fork - Manitou [2007?] R7 (Formerly yellow Judy xc hydracoil)
Edit: converted to ss.
This was kind of an Xmas present to myself. The owner of the local shop had this hanging up for grabs, naked as could be 'cept for headset bearings. The bike has disc brakes now and had deore shifters... I used what I had lying about.... including cheapo offroad tires, before I switched to the huge WTB knobbies. I put on the street/tread tires for mixed use, around town or woods, then the wtbs. I've taken it offroading in a few real singletrack trails (Lewis morris, etc)since the little trail behind my neighborhood was destroyed by the local gov't (who no doubt assumed said destruction was a lauded improvement) when they widened half of it to sidewalk width, graded it with a bulldozer, and covered it with cinders! That part sucks; the good part was finding real mtb trails again. Aside from putting around in "my" woods, I hadn't been serious offroading since they outlawed us at the Watchung Rez (except for a few black ops winter sorties when no park ranger would be out in 18 degree F temps!).
New addition of 2013 was the air fork. It's a pound lighter than the Judy and had adjustibility, in the form of a lockout, although that is really more of an adjustment than true lockout. Still... lighter, nicer.
The next mod was the shifter. The Deore trigger shifter than came with the rear derailier stopped shifting to half the gears, so I replaced it with a thumb shifter. I used an old Suntour for a bit, but what I really wanted was Paul's Components Thumbies, or more specifically, a thumbie, but they were like 70$. So I made my own by cutting up a Shimano bar end shifter, disassembling it and an old mtb thumb shifter mount, and putting em together (see last 2 pictures). I like how it looks and works so far.
Then added the Kenda Yyote 1.95s. By the numbers they are only .30 smaller but they look so much thinner and the effect on rolling resistance is amazing. Plus they still work good offroad.
3-19-13 - replaced the chainguard. I'd used a homemade 44t ring with teeth cut off, i went to a 39, smaller and cleaner. Also homemade!
Next came dual pedals, spd one side, aluminum platform on the other...