Klein Quantum Pro Pearl Yellow
By The_Don on 12/20/2010.
Bike tags: Road bike | 1996 | Klein | Pearl Yellow | pro | Quantum |
Click to view other photos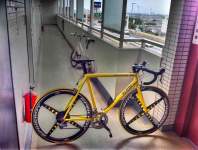 Klein Quantum Pro 57cm 1996

44cm Deda RHM 02 and 90mm 3T Pro

Klein Aeros and Klein integrated headset with glued in bearings and steerer

Dura-Ace 7800 Compact Double

105 SPDSL and Dura-Ace chain
Picked this up, very stiff frame (I love that), and amazingly light. It's easily as stiff as my Fuji Track Comp was, but much lighter with a full Dura-Ace 7800 groupset on it!!!