Curious Circus bike
By jayohachen on 11/12/2010.
Bike tags: Single speed | 24 | coasterbrake | extra small | oscar | tiny | wastyn |
Click to view other photos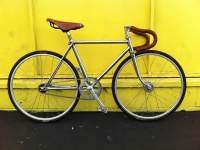 Stock (custom) / Hindulum / Sugino 75 wrap

Stock 24" / Campagnolo Nuevo

Campagnolo Gran Sport HF 32h / 24" Araya 20a / ITS

Bendix Coasterbrake 32h / 24" Araya 20a / ITS

Campagnolo Nuovo Record / Stock threadless (custom)
My girlfriends bike.
It has a standover height of 26".
It's a perfect fit for her.
She loves the coasterbrake.
Supposed to be a frame built by Oscar Wastyn (Chicago)
Used by a racer at the Encino Velodrome in the 70's.
Still have the track wheels.
I look like a circus bear when I ride this.