Yellow Motobecane Nomade
By raleighgranprix on 10/28/2010.
Bike tags: Road bike | french | huret | lugged | motobecane | nomade | planetbike | solida | yellow |
Click to view other photos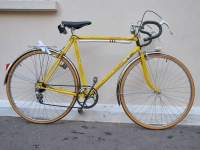 Motobecane Nomade / 22 inches / 1975 guesttimate
Is there much of a difference between this Nomade and the elite legendary Motoncomfort bike shown in the last picture? Humbug to the elitists, this is kilometres ahead of most modern bikes made. Though honestly, the Motoconfort has slightly different lugs, headtube at least.
I can get it in a real low gear that has gotten it up some rather steep hills (30% grades if not too too far), not too heavy, love the Nomades, classic look.
Cottered Cranks, works well, Steel feels smooth, Steel Crank, I figure if I ever wear it out, I'll get a new one, I knew of someone who said he'd ride a Solida Crank in Montreal, no problem at all, great for the winter, the Bike is a time capsule, foam, etc. no reason to "Classicize" it. Very reliable. Solida is a reliable company, I saw some sort of "modern" version on a Gitane, I have even seen a "triple" cottered crank by Solida.
Looks like my photos get too much sun, I will correct that in the future.
Oh yes, Planet Bike Yellow Fenders, wish PB made various colors but yellows are there "safety" color and people say they look like they came with the bike until they look closely and of course, they are plastic. Handlebar water cage too.
Note too, I was able to put on a Bell Bag, yes, Bell the manufacturer of budget bike gear, the bag hanging from the saddle in the 2nd picture is from Bell, I painted it black with shoe polish from it's brown look, I've tried to make it look "Classic" without changing the bike too much such as removing the foam off the handlebars as I've done before, again, foam is very comfortable, like the crank and the brake levers, if they wear out, then I will see what other components might be worthy.
I have been getting some aches in the wrists but think that is more attributable to an old injury but the day is coming where I may get new handlebars definitely.
The third picture actually has a Fuji or Fujiyata leather saddle...which has never really been that comfortable.
Nomades are great bikes, some, I happen to have a spare Nomade frame and I'm sorry, I can't call that other one light, there seems to be a variance in the model itself from year to year whereas Classic Rendezvous called the Nomade Motobecane's answer to the Raleigh Record, I'm not sure if that is true, maybe with some Nomades. Then again, some Nomades are the same frames as your Mirages...I've seen a beautiful yellow Mirage much like this but with a half chromed fork, a few more inscripted lines and Simplex Derailleurs, I also saw a Grand Touring Motobecane with a similar build. By the way, another nice bike on Velospace is a Raleigh Record Hornet should you see it.
I had to pass on it but I saw a Motobecane Nomade that was a sort of Violet Silver with purple decals. That has to be one of the most handsome Nomades I have seen. One forum said there was a Nomade edition that was painted split down the middle, one side one color, the other side another color. I will have to see this to believe.
This bike largely does not rust for the most part... some scraping through ordinary use is around the dropouts.
Notice, this Motobecane does NOT have decals, the name and all are inscribed into the frame as black paint, save a seat tube sticker. I believe my spare framed Nomade is gold decals on a green frame.