Serotta Atlanta
By mpearson76 on 04/16/2006.
Bike tags: Road bike | Brooks | classic | lugged | serotta
Click to view other photos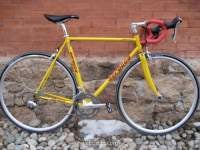 Serotta Atlanta, 56cm, Porsche Bebe

3ttt bars, 3ttt quill stem

Serotta F1 carbon fork, Dura Ace threaded headset

Dura Ace/Open Pro/butted Wheelsmith spokes

Dura Ace/Open Pro/butted Wheelsmith spokes

Brooks Swift, American Classic

Speedplay Zero Stainless, Dura Ace

Dura Ace 9 speed 12-25, double 53-39 double chainrings
I bought this bike on Craigslist in December 2005. Since then I have purchased new pedals, saddle, and bar tape, but it is otherwise a stock size Serotta Atlanta purchased new in Atlanta in 2001. I am lucky to have such a nice bike--it is far more than what I could have bought new, and I am enjoying it immensely. I am very happy that I bought this and not a new bike. It hangs in the living room, and it is my favorite piece of artwork in the house.