Fuji: 2 speeds and a coaster brake
By lorelie on 10/16/2010.
Bike tags: Single speed | track bike fuji benotto brooks bendix
Click to view other photos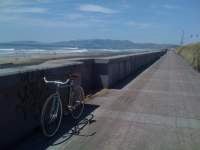 Campagnolo Lambda rim Campagnolo Grand Sport hub

Campagnolo Lambda rim Bendix "red stripe" 2 speed hub with coaster brake

Brooks Swift titainum Campagnolo Aero
Nimble little ride.
Always fun to fake out the fixies with the coaster brake and two speeds.
Ta ta suckas!