ZZR / Romet Jaguar
By hk on 09/15/2010.
Bike tags: Road bike | zzr romet jaguar favorit huragan mafac simplex gran sport poland polish classic vintage campagnolo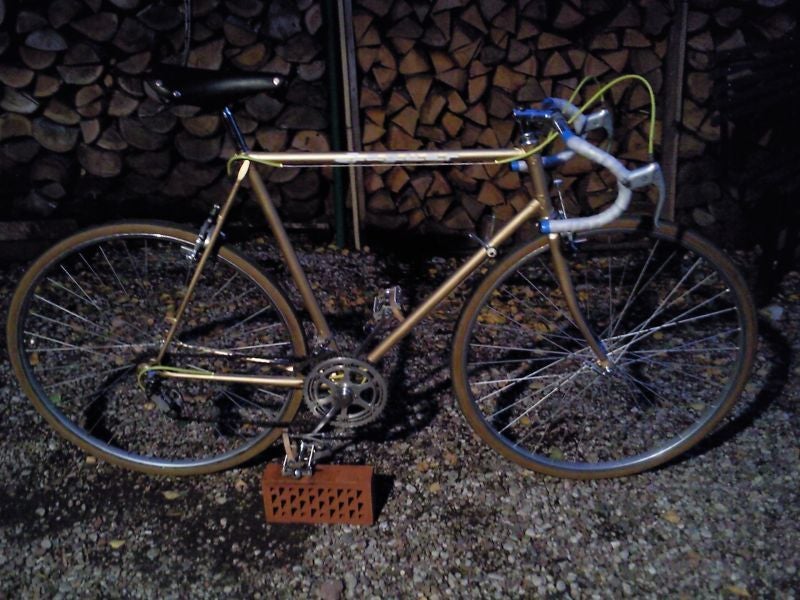 Click to view other photos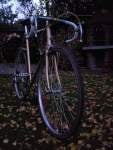 ZZR Jaguar from circa 1968

Romet (or Favorit, I can't recognize)

Cr-Mo modern fork, Romet headset - road type

630 touring Romet aluminium rim, Stomil 32-630 tire, Romet hub (copy of Campagnolo Gran Sport )

as above, chromed steel rim

Romet, with Brampton bowl

Brooks Team Professional, Romet chromed seat post

ZZR Pedals, Romet narrow chain

Derailers - front Romet (Campagnolo Gran Sport copy), rear Favorit Special; Favorit shifters.

Romet center-pull brakes and levers
This bike was found near by trash and brought to junkyard where I heared about it. I got it from there for free in very bad condition (multiple painting, many corossion etc.), but I needed to buy some parts and did many work. I spend on it about 80$ but it rides great. One serious bad thing is little crack near bottom bracket, I observe it all the time to prevent total damage of very very old and tired frame.
I suspect that this frame is built with Reynolds 531, but now it really doesn't matter in riding - it's weaker than new or little used frame with these legendary tubes.
During restoration I wanted to keep many parts closest to original but I introduced one exception - rims are clicher, not tubular as original Jaguar and Huragan have.
Weight is 13,3 kg because of heavy rims, tyres, bottom bracket and seat post.