Titanic Triple Tandem Featured Bike!
on 10/22/2009
By thickbikes on 05/15/2007.
Bike tags: Coker | cruiser | monster | single speed | Thick | titanic | Triple | Tandem |
Click to view other photos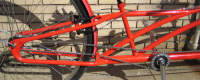 Thick Bikes Custom Built Triple Tandem

Super huge cruiser bars with some generic stem

Thick Bikes Custom Built Fork to fit 36" wheel

three sets of Profile Racing cranks each with a specially adapted freewheel so each rider can pedal seperately or not at all

Odyssey Intac posts with these strange Hands-On seats that look like hands grabbing your butt

It took five chains put together to make the three separate chains for this bike, Odyssey Twisted pedals

Fairly low gear for mellow cruising
This thing is over 14 feet long from tip to tail. There are four vee brakes - two on each wheel - with special levers that each pull two cables. Together, the huge 36" wheels and tires weigh 25 pounds. The whole bike weighs around 120 pounds. Titanic Triple concept and drivetrain design by Brett Marshall.