Felt F4
By nichkov on 05/15/2007.
Bike tags: Road bike | 11-23 cog | 20 speed | 53/39 | carbon fiber | dura ace | Felt | roadie | shimano | ultegra |
Click to view other photos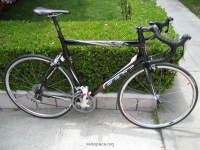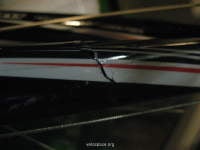 High Modulus Carbon F4 60cm

Felt 1.3 6061 Butted bars, 1.2 stem

full carbon 1.3 fork, aheadset integrated

shimano 561 10 spd with rubino

Felt 1.1 carbon saddle, 1.1 carbon post
Full Ultegra with 105 brakes and a Dura Ace rear derailleur. My first carbon frame, feels real nice. Can't wait to go slam it up and down the PCH. Just picked up some Keo sprint pedals, feel great, also threw on a white Lemond saddle from a few years back, and soon to put white tape on to get that extra roadie king points.
Update-On a recent trip to SF, the bike was on the back of a bike rack, and as we were backing out of a hotel parking lot, a pole caught the bike and fucked some shit up. I was outside so I heard the fatal death snap and knew it was done, threw my coffee at the ground. Tip to hotel owners, don't paint poles the same color as the walls, especially ones that magically appear out in the open.