Belvedere Commuter (and its Twin!)
By adfsurf on 05/15/2007.
Bike tags: Commuter | Auckland | marin | New Zealand
Click to view other photos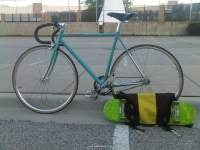 2006 Marin Belvedere 20.5"

Stock, Changed stem to 3T
My commuter. Blanked out, ripped off or taped over all of the logos. Sweet fenders for all weather. Basket for my groceries and junk. I have no car at all now, so this is my workhorse. Pretty neglected though. Mostly ride the fixed gears. So this guy gets a spin every now and then. Got my Fiancee an identical bike...right down the the rack and basket.
I keep breaking spokes from loading up my basket too much!